GLOW GET THE DAY
Sublime Skin for the glow getter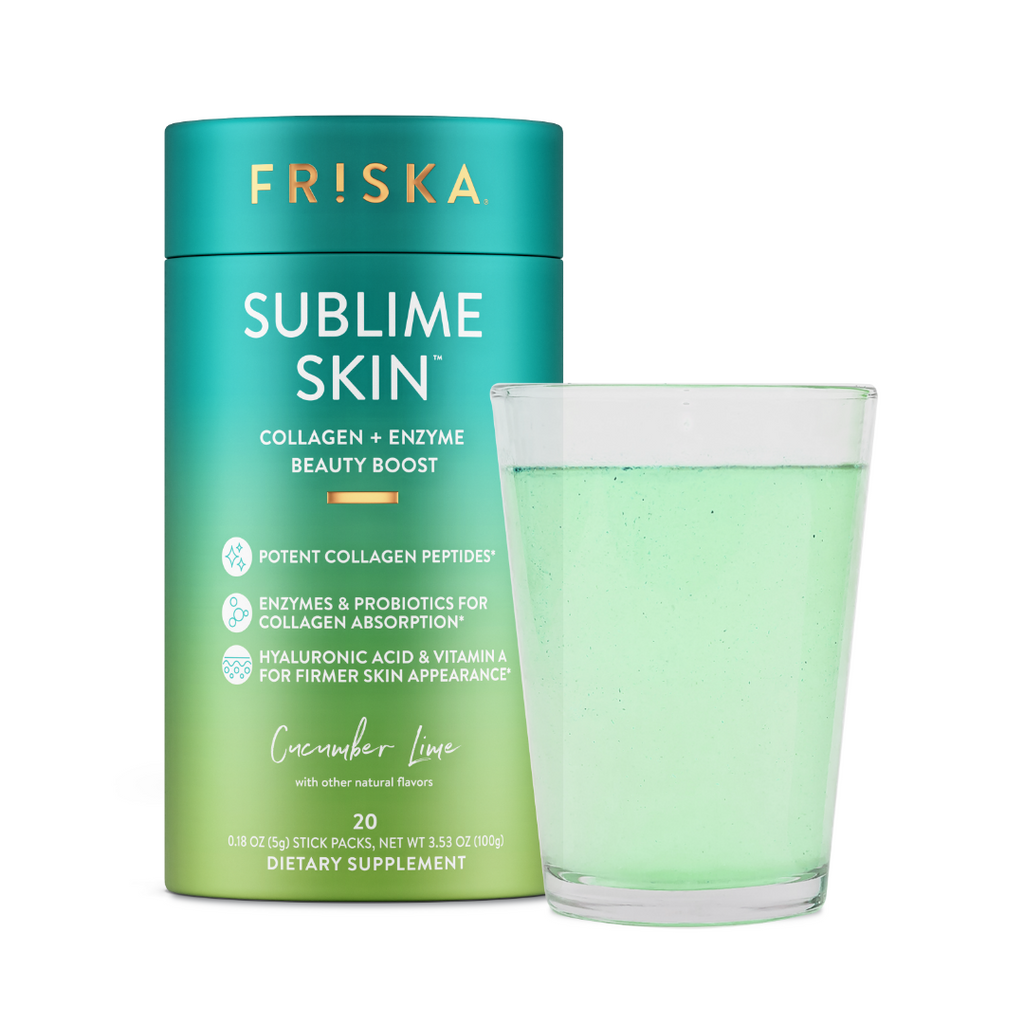 WHAT'S IN SUBLIME SKIN?
Potent collagen peptides for clinically proven results in four weeks. *
Enzymes + probiotics for ease of collagen absorption. *

Hyaluronic acid + vitamin A for firmer skin appearance. *
Still unsure? If you don't love it, we'll give you a 100% refund, no questions asked.
HOW TO TAKE
POUR ONE SACHET IN 8oz OF YOUR FAVORITE DRINK
+
SHAKE VIGOROUSLY UNTIL FULLY DISSOLVED
=
SEE RESULTS IN JUST 4 WEEKS!
SUPER FLECKS,
SUPER POWER
The tiny green flecks you see are Spinach Leaf Extract, a highly concentrated form of body recharging anti-oxidants.
THE FRISKA DIFFERENCE
BIOACTIVE COLLAGEN*
Our concentrated Bioactive Collagen is clinically proven to improve skin elasticity and firmness, and reduce the appearance of wrinkles in as little as 4 weeks in an easily digested dose*.
GUT HEALTH*
Our unique Enzyme Blend helps break down collagen and other proteins for better absorption. It also aids in the breakdown of grains and veggies, which support a healthy, radiance-focused diet.
GREEN POWER*
Spinach Leaf Extract is the power engine that provides a highly concentrated form of antioxidants, and helps recharge your body and optimize metabolism*.
SKIN LOVING SUPPORT*
Hyaluronic Acid to support the appearance of firmer skin and reduce the appearance of fine lines and wrinkles*. Vitamin A to support the generation of new skin cells*. Aloe Vera is a rich source of antioxidants, such as Vitamin C and E, to help your body produce collagen*.
DRINKING BUDDY
Mix Sublime Skin in cold water and shake vigorously for a spa-inspired Cucumber Lime flavored beverage.
*THESE STATEMENTS HAVE NOT BEEN EVALUATED BY THE FOOD AND DRUG ADMINISTRATION. THIS PRODUCT IS NOT INTENDED TO DIAGNOSE, TREAT, CURE, OR PREVENT ANY DISEASE.